Manual payments can also be made. Deposit information disclosed once supporter information is submitted.
---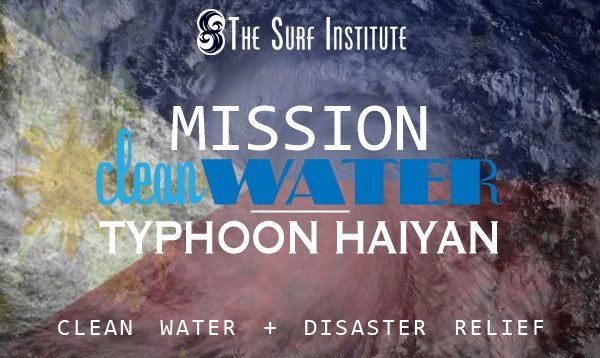 ↓↓↓READ UPDATE BELOW!!↓↓↓
In response to the devastating affects of Super Typhoon Haiyan, known to Filipinos as Yolanda, our small crew is teaming up with Jon Rose and his team from Waves For Water to offer our help to the survivors of this catastrophic natural disaster. With approximately 300 filters on hand, the team is confident a positive impact will be made, not only to facilitate survivor needs at present, but for years to come.
The areas in central and southern Philippines are some of the most poorest in the world, which may speak to the reports that the island nation suffered approximately 4,000 deaths, with nearly 11 million Filipinos affected in one way or another. Remote areas like Guiuan, a popular surfing destination for the increasing number of Filipino surfers, received the full impact of the storm and witnessed destruction on a mass scale with 95-98% of homes completely destroyed.
The TSI team – Ian Zamora, Carla Rowland, and Jefferson Ganuelas will meet up with the W4W crew in Cebu City, located in the Visaya region of central Philippines where base camp will be established and efforts will be coordinated. We are coordinating to strike hardest hit areas like Guiuan, who saw the eye of the storm go directly over them, via helicopter, private plane, or military assistance.
We are asking YOU to get involved and help the TSI crew on this grand endeavor. There are minor costs that we could most definitely use assistance with including airfare and accommodations.
All donations go directly into the mission – whether that be for airfare to get the team on the ground, or to food in their belly's so they can keep moving. Because we had 70+ filters already in our possession ($50/filter = $3,500), we have been able to mobilize quickly. We currently have 30 filters being established in Guiuan, RIGHT NOW (as of 11/15). UPDATE Any funds leftover will either go to purchasing more filters or be used in follow up missions in the coming weeks. These filters can and will play a vital role in the lives of many Filipinos, whether in the midst of calamity or simply surviving day-to-day.
I guarantee this money will not be used to line our own pockets. That's just not our style.
Please consider donating. Everything helps! Even the smallest contribution can make a BIG difference!
Much thanks and God bless.
Carla Rowland
—
Mission Coordinator
Owner, The Surf Institute
---
UPDATE – 11/20/2013
It's always a humbling experience to take yourself out of your comfort zone and step into a new perspective. Once our team set into motion our plan of attack, there was no turning back.
Thursday morning the four of us – Jefferson Ganuelas, Norman "Textbak" Dalora, Ian Zamora, and myself – began our mission with the 4 1/2 hour drive to Manila from La Union. There we met up with Dr. Hayden Kho and his assistant, Chat Palmos, to align forces and strategize how the next couple days would play out. The amazing folks at Alphaland arranged for our team, including Ms. Chat, to arrive in Guiuan by a small, private plane; however, the crew would be required to spend at least one night on the devastated island. With that information it was concluded that because of my own health issues, my energy would be best served in Cebu to meet up with Jon Rose and the Waves For Water team to deliver additional filters to them, as well as to help them coordinate efforts on the ground.
So, late Thursday night, I flew out of Manila into Cebu City where I was greeted by the incredible Carlo Delantar, who proved to be an incredible asset. Carlo is part of Junior Chamber International (JCI), which believes "that in order to create lasting positive change, we must improve ourselves and the world around us. They seek targeted solutions to the unique problems in their communities to build a better world, creating global impact."
While I was doing my best to get some shuteye before a big day of planning; early Friday morning, the TSI team was at a private hangar in Manila getting ready to embark on their mission to Guiuan……
On the Ground: Ian's Story
When our crew arrived at the Alphaland hangar in Manila, we were unsure if we could board the plane because they were prioritizing relief goods to Guiuan. Luckily, since our filters did not weigh too much, we were allowed to board. We were accompanied by Father Edgar, who had just arrived from a 3-day journey by motorcycle from Eastern Samar to relay information since there was virtually no communication coming out of Guiuan. Also on board were a few Red Cross and Alphaland personnel.
As we approached the Guiuan airport, we could see the complete landscape devastation from above. As we landed, things really started to sink in and our nightmares became reality. The airport structure was indistinguishable and unusable. Every coconut tree as far as you could see was either pulled from its roots or leaning in the direction the wind incessantly blew. There wasn't a sight of living vegetation. Once a lush green tropical paradise, now was reminiscent of a bomb stricken landscape.
As we unloaded our gear and goods, we were greeted by Filipino and American military. The US troops were slowly starting to set up camp at the Guiuan Airport. Not having any idea where to go, we roamed around the dilapidated airport trying to find transportation to the town proper. With luck on our side, we came across our surfer friend and Guiuan resident, Kinna Kwan. Surprised and immensely thankful, we exchange hugs and tears knowing that she was alive and well. Her team found us a ride to Guiuan town proper and as we made our way, our jaws dropped in awe witnessing the incredible destruction. Only a handful of concrete structures remained upright. Roofing, trees, power lines, and other debris littered the streets; however, the local Guiuanians had come together and cleared the way on the main road for one lane of traffic.
On our way to our first strike, we stopped at the Municipal Hall where we left the bulk of our gear and the majority of the filters. Our strategy was to visit various hot spots, inform officials of the filter use and maintenance, leave the location with one filter, and then return once we were able to assess the entire region. Our first hot spot was the home base for the rescue/clean up team near by. Without these guys clearing roads and helping the locals, recovery would be even slower. Since they were running low on water, we knew we had to provide them with a filter ASAP. Fortunately, the concrete building they were posted up in had a broken city water pipe that they managed to hook up and have running water. This was a huge asset since trying to find a secure source of water was a challenge. We performed our demo and gave the crew specific instructions as to cleaning and maintaining the filter. The filter system was put in use immediately. The next day, I returned to discover that the filter made its way to one of the outer islands in Eastern Samar where it was in more dire need. We made sure to reciprocate the kind gesture and replaced the filter.
The next strike was at a makeshift emergency medical center. The local medical staff was really keen on the filter systems. It was important to us that medical facilities received these filters to ensure they have decontaminated drinking and cleaning water. As we were doing the demo, we were joined by a foreign medical assessment team who was extremely inquisitive as to the science and safety of the Sawyer PointOne filters we were distributing. Spending less than an hour at the facility, we did our duty and swiftly made our way to our next target point.
We heard of a place where people gathered and lined up to get potable water. As we walked the streets under the scorching sun, seeing people's homes completely destroyed, the tragedy sunk in even harder. The debris field was so vast and so great it was hard to fathom how clean up and rebuilding could begin. We witnessed residents salvaging whatever they could find of their belongings – an article of clothing here, pieces of their home there. It was a struggle just to find shelter from the overwhelming heat. The destruction was so vast and so grand, I don't think any of us were prepared for it. That said, witnessing such decimation drove us to get the mission completed as efficiently and effectively as possible.
The third target point turned out to be grocery store that had been completely looted, but was now guarded by local police. There was a massive line of people that stretched outside the building and far down the road. We quickly learned that this location housed the only satellite phone in what must have been many miles. The owner of the phone was allowing the community to make 1 minute phone calls per person for free. To our pleasant surprise, manning the phone was the Textbak's cousin, Renee Patron. It was such a relief to learn of her well-being, as well as those of other friends and family members.
Needing a rest, we sat around and shared a quick meal from the basic provisions we brought. We listened to the stories which ranged from heroic to horrific. Cooled down and refueled, we decided it was time to make our way to the town of Sulangan where many of our surfer friends resided. We had very little news about their condition and were aware that our help would definitely be needed and welcomed. Since transportation from Guiuan to Sulangan was near nonexistent, discussion of doing a 4-5 hour walk in the middle of the day quickly became unrealistic. Perhaps fate was in our favor or the Lord above was gracing us, but as we looked outside the store we saw a jeepney loading up people and as many water containers as they could. Discovering that this was the only jeep going to Sulangan, our team hopped on the roof, which actually gave us a better view of the altered countryside.
As we made our way out of Guiuan, the reality of the destructive impact from Typhoon Yolanda kept slapping us in the face. Everything was destroyed or damaged. There was not one power pole standing or a tree with leaves intact. The smaller barangays where the majority of citizens reside in wooden, make-shift houses were obliterated. However, to our utter amazement, the residents were alive and thriving as best they could, making every effort to clean up their now unrecognizable village. To survive such a calamity takes courage, but to then push forward with such perseverance is truly admirable.
En route to Sulangan, we passed through Calicoan, home of the popular ABCD beach and small surfing village which WAS home to a few surf resorts. This locale is renowned and loved by many for its incredible waves, crystal clear water, and paradise setting and mellow vibe. Once a landscape filled with coconut trees, the town resembled a desolate, uninhabitable wilderness. Wood huts, homes, and structures that once buzzed with the sounds of families going about their daily lives were now strewn across the ground without rhyme or reason. The storm surge and violent winds crushed everything in its path only leaving the concrete walls of the bigger structures and resorts. Large coral boulders were found in the middle of the road, several yards from the ocean. Many of the beachfront resorts were either lost to the eroded coastline or were unable to withstand the intense winds and simply disintegrated. As if things weren't depressing enough, every surfboard the little island possessed had been broken! We inquired about the availability of fresh water for filtration. For the most part, all of the area's wells are contaminated with some percentage of sea water, making our systems of no use.
Finally, we arrived in the hometown of Textbak – Sulangan. As we crossed the town bridge, you could see the carnage that this small town experienced. The majority of homes were old and built with wood and a tin roof. Post-typhoon, homes once cared for and cherished by its owners, now looked like a pile of sticks and crumpled metal. As we had already witnessed, a few concrete homes remained upright, as well as the miracle church of Sulangan, which has garnered a reputation for being a holy safe haven. Once again, residents sought refuge here and were miraculously spared of the typhoon's wrath.
We were greeted with smiles and laughter as we passed Sulangan town hall. It was an amazing sight. Despite having just experienced, and survived, the strongest typhoon in recorded history, the attitudes and spirits of the Sulangan people was truly inspiring. They waited patiently for their daily rations, which would only arrive from Guiuan on the condition that the road remained cleared and opened.
The surf crew of Samar was kind enough to house us for the night. They were so exhilarated at our arrival that they, without hesitation, shared their rations with us. There we sat and ate by the light of a hanging flashlight and listened to more unimaginable stories. With a full belly, I was left feeling overwhelmed and at a loss for words. We were all exhausted and eager to shut our eyes; however, a sound sleep would have to wait until our mission was complete. Between the soaked, dilapidated couch I had as a bed and the hard, pouring rain in the middle of the night, I was lucky if I got an hour worth of shuteye.
Bright and early the next day, we set up our hosts with enough filtration systems to get them started and; therefore, not be reliant on the 30 minute trip to Guiuan to buy clean drinking water. At this point, they still need more filters to sustain the whole town. With a promise to return, we left whatever gear would be useful for them – our flashlights, batteries, lighters, and extra food. We said our heartfelt goodbyes and made our way back to Guiuan.
Once in Guiuan, we retreated back to the grocery/satellite phone center to make sure that the remaining filters we left were to be distributed to the right places. Out of filters and yearning for a good sleep, we decided to make our way back to the airport in hopes of catching a ride back to the city. Ironically, I spotted a plane flying overheard and thought it may be our only ticket off the tragedy-stricken island. The airport was bustling with American troops bringing in goods via helicopter, which was the only means to access hard to reach areas of Eastern Samar. As luck would have it, the plane I saw overhead was our guys at Alphaland and they were getting ready to depart for Manila. The pilot was happy to let us onboard and we were equally happy to take a seat and decompress from all that we had experienced.
As of now, the remaining filters are being distributed accordingly to the small towns in between Guiuan and Sulangan. Huge thanks must go out to Klaus, a Norwegian resident of Guiuan, and Renee Patron, for taking responsibility of the remaining filters.
This quick, but impactful trip has left me with lasting impressions that will remain with me forever. It has empowered our team to continue our efforts to help the victims rebuild their lives.
Our Plan…
Although our trip to Guiuan was relatively short and sweet, that by no means implies that we are finished in our efforts. Ian and I are set to return to the U.S. for Thanksgiving where we will re-up on filters, slippers from non-profit and TSI partner, Project Save Our Surf (PSOS), as well as any other items we can get our hands on (and fit into our luggage)!
Once we return from the States, we will send another team to Guiuan with more filters. My hope is that we can also organize a cleanup and rebuilding effort and bring in volunteers to assist with this overwhelming and daunting task. The TSI team is also looking into reaching out to other areas affected by the typhoon that have yet to receive attention – Camotes Island, areas on Palawan are just a few of our possible strike zones.
Thanks for your support!
We have been truly humbled at the support the international community has shown both us and the millions of Filipinos affected by this devastating typhoon. We want to assure you that we are committed to this effort and will do our best to see to it that your funds are used honestly, fairly, and with the best interest of the victims in mind.
Again, thank you so much for your generosity! We couldn't do it without YOU!
Share and Enjoy