The Best Malibu Surf Lessons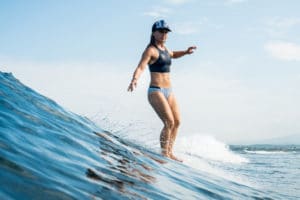 The Surf Institute's private and small group surf lessons and coaching are generally given in Malibu, CA. Many of the easy-going waves in the area offer novice surfers a forgiving take-off and smooth ride, while giving intermediate and advanced surfers the ultimate canvas to perfect style and technique. Students of TSI's program, which was created by surfing stylista, Carla Zamora, are guaranteed to receive the best tools and tips to progress swiftly.
Carla oversees all intermediate and advanced clients. Beginner sessions are handled by one of TSI's experienced coaches.
Rates*
All Sessions = 1 full hour of in ocean training†
1 person
2 people
Beginner Private Lesson (equip. incl.)
$150
$280
––> Beginner Package (3 lessons)
$400
$800
Beginner/Intermediate Private Coaching (equip. not incl.)
$100
$160
––> Coaching Package (3 lessons)
$270
$450
On-Land Video Coaching (1½ hrs)
$100
-
––> with professional edit (like this!)
$200
-
*Suggested donation. †Give extra time for parking & wetsuit/on-land prep