INSTRUCTOR
LOCATIONS AVAILABLE: MALIBU / SUNSET / SAN ONOFRE
SPECIALTY: INTERMEDIATE LEVEL COACHING, TECHNIQUE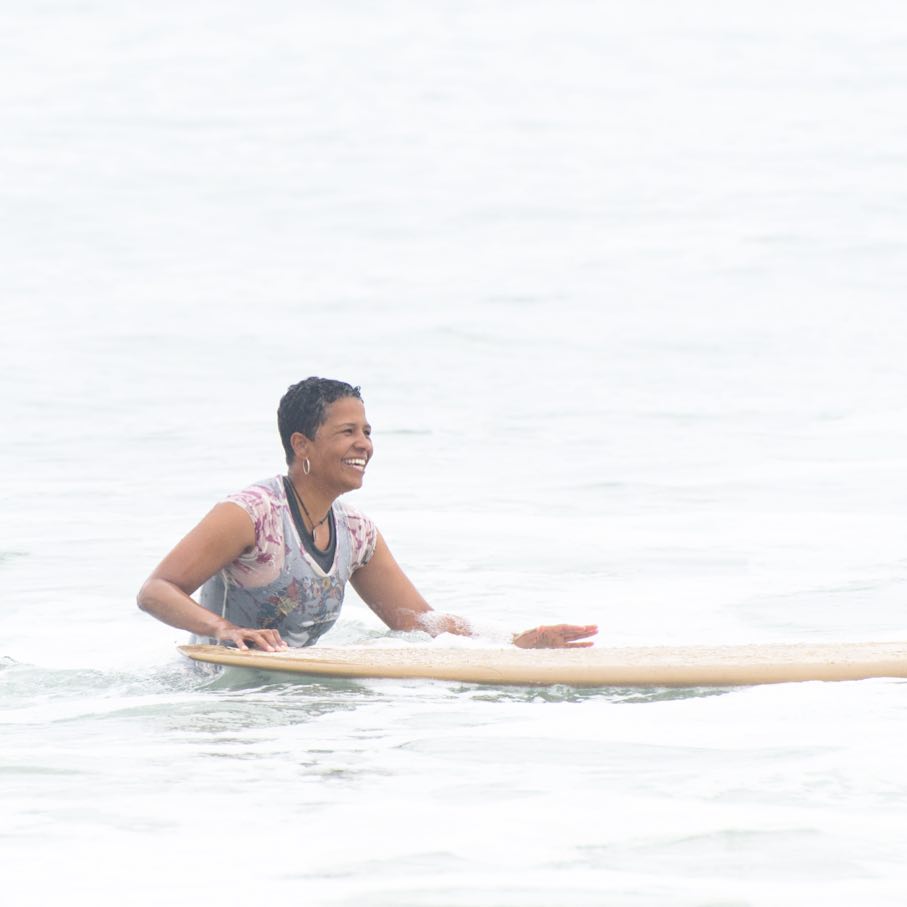 Andrea is a water woman, a celebrated longboard surfer, artist, and accomplished teacher. She has dedicated the last 20+ years of her life engulfed in the creative practice and study of surfing. Andrea believes the act of surfing is not a sport but rather a deeply creative and mindful practice. She seeks to provide clients with thoughtful and individualized guidance as they grow and develop their knowledge of the ocean and flow of surfing. Andrea believes that when approached with mindfulness and respect, surfing can heal, empower and bring joy to ones life. 
The daughter of parents who worked internationally, Andrea was introduced to some of our planets most amazing natural liquid wonders, which included swimming in Ethiopia as a toddler with her mothers guidance. She learned to body surf river currents and to slide down naturally formed waterslides deep within the Congo. Andrea's childhood upbringing is dotted with vivid memories of awe inspiring adventures and joyful play in natural water. For Andrea, playfulness with water, the joy of learning and creativity was the foundation for her life long relationship with water and in particular, the ocean.
Andrea's teaching experience is extensive. This includes educating youth who are at risk in downtown Los Angeles, students with learning disabilities in the public school setting, as well as teaching adults in both junior college and university. Her students have ranged from as young as 4 years to senior aged adults. She has studied the craft of teaching/coaching with equal joy and commitment as she has with surfing. Andrea believes that clients learn best when creativity and the joy of learning are activated. She earned a teaching credential as well as a certificate in Cognitive Coaching methodologies – a mindful and action oriented method of mentoring/coaching that is led by the clients goals and aspirations. Most recently, Andrea was awarded a prestigious Cotsen Mentoring grant which enabled her to expand her teaching practices focused on mentoring/coaching adult learners.
TESTIMONIALS
January 17, 2021 – Maria Shen, Malibu
I had a wonderful session with Andrea today! She is quite technical, and gave me a lot of great tips based on her keen observation of my surfing. But – Andrea is also a Flow Mistress – and this is where I received the teaching that I treasure most from her: to connect more with the wave, and stay open to the flow. Grateful.
---