DONATE NOW!! DONATE NOW!! DONATE NOW!!
THE SURF INSTITUTE IS BRINGING CLEAN DRINKING WATER TO THE PHILIPPINES FOR THE SECOND YEAR IN A ROW
UPDATED VIDEO FROM OUR RETURN TO BALER…
UPDATED VIDEO FROM OUR LU DISTRIBUTION…
SEE OUR STORY…
---
For the second year in a row, The Surf Institute and Zamora Surf will make the journey to the Philippines to bring clean water filters to rustic communities who need it most, on the main island of Luzon in the Philippines.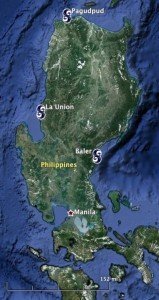 This year, The Surf Institute, Zamora Surf and Waves for Water have been at it again, distributing clean drinking water filters across the Philippine island of Luzon, visiting areas like Baler, La Union, and Pagudpud. This year, the folks at Project Save Our Surf (PSOS) supplied the TSI team with 10 clean drinking water filters, which were distributed to various schools throughout La Union and Baler.
"No one should go without suitable drinking water in 2012," says Carla Rowland, owner at The Surf Institute, who has made it her mission to do more with her travels than just surf.
"We really take for granted the most basic of needs here in the U.S. With nearly 16 million Filipinos living
WITHOUT clean drinking water, it's my hope that we can affect the lives of many who struggle in obtaining this most fundamental life-sustaining requirement." All who are interested in getting involved should contact Carla Rowland at TheSurfInstitue@gmail.com.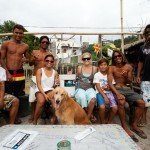 The team has been a leader in an important movement to educate and encourage the Filipino people to maintain adequate, clean drinking water.  Each person on this trip will empower multiple Filipino communities by passing on the tools to live easier with an independent and cost-effective source of drinking water.
---
WHERE YOUR DONATIONS WILL GO…
UPDATE – Thanks to the generous donation from one of our good friends, Christian rock singer, Brenton Brown, we were able to purchase our own vehicle. We have made the area of San Juan in La Union our home and have managed to secure filters to 2 schools in this area. We are set to head to Baler later this month. Because it took a bit of time to secure a vehicle, and becasue we are in the process of starting our own Philippine-based water filter project with local NGO, our mission has been extended into March, perhaps even into April!
That said, we are in desperate need of more assistance!! The car needs fuel, bellies need to be fed, rent must be paid, filter buckets must be bought!
PLEASE PLEASE PLEASE help us continue this incredible mission!!
---
WE NEED YOUR HELP… DONATE NOW!!
Show your support by offering a donation of any amount. Even the smallest contribution can help us reach our goal.
Special Thanks to our supporters!